UV Radiometers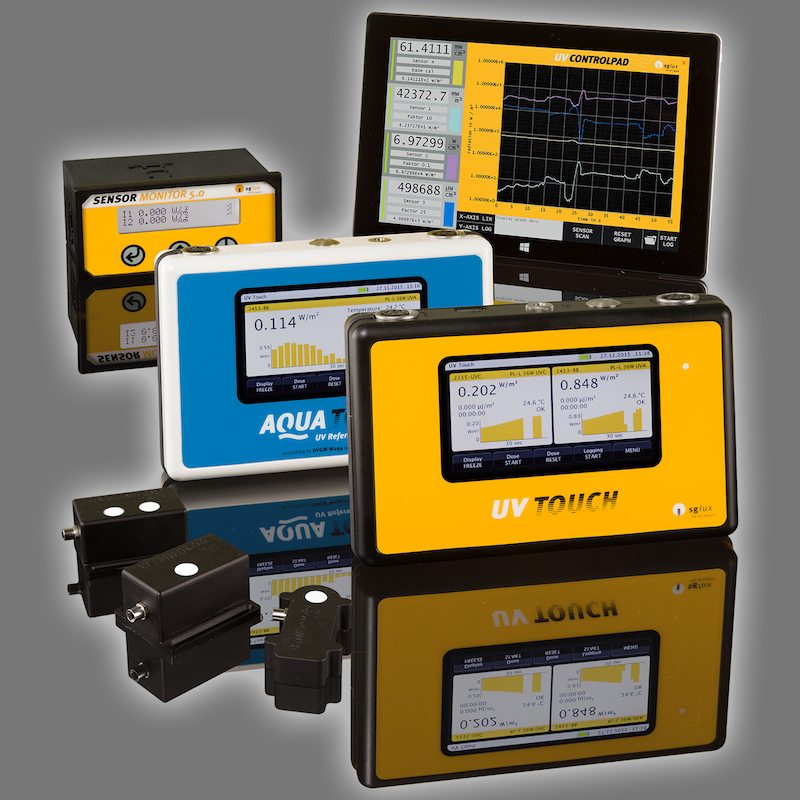 A UV meter is used when the effect of UV radiation on a biological or chemical process, or the negative or positive effect of UV radiation on human health, needs to be quantified and documented.
The requirements for UV measuring instruments result from individual customer-specific inputs or from a law, a standard, or a directive. Our measuring devices consist of a calibrated sensor, which is connected with a cable or via a radio link to a display device or a PC or data server. The display device is either produced by sglux or consists of a smartphone or server operated by the user. Our UV measuring devices with their motto: "Measure-Understand-Evaluate" occupy a top position worldwide in terms of their precision and user-friendliness. Since 2018, they are in sovereign use: most of the 27 stations operated by the Federal Office for Radiation Protection in Germany for recording the solar UV index are equipped with sglux sensors.
When selecting a suitable radiometer, as a first step, the use of the "SXL 55" universal radiometer is to consider. The smartphone-based device with its intuitive operating functions guarantees error-proof UV radiation measurements. The SXL 55 is suitable for the majority of common applications. For very special measurement requirements, other devices are available, which are presented in the list below after the SXL 55. All UV radiometers undergo a PTB traceable calibration before delivery.
When processing the customer's inquiry, we first obtain an understanding of the customer's measurement task. This information is used to select and configure the measuring instrument in terms of its dynamic range, spectral response characteristics, output signal, external geometry, calibration method as well as special requirements (regarding temperature, waterproofness, speed, dirt, power supply, etc.).
The delivery time of our UV measuring instruments is a maximum of three weeks.
Showing all 10 results