UV Radiometers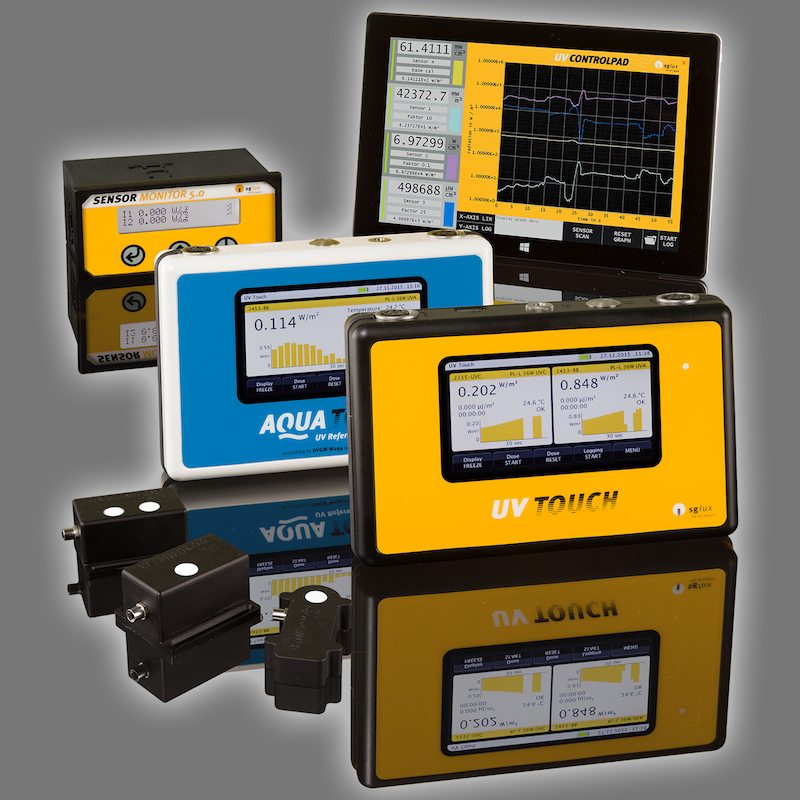 A UV radiometer is needed for quantification and documentation of the impact of UV radiation on biological or chemical processes, as well as the UV effect on the health of human beings, animals, plants or material properties.
The features of a UV radiometer depend on the individual customer's requirements or a standard/guideline. The design of a radiometer follows the intended way of use. This page presents "classic" radiometers and dataloggers that consist of a sensor and a display unit which are connected by a cable. The display unit is either an in-house produced module or a smartphone with a radiometer software. The page "network imbedded UV sensors" presents radiometers that are integrated into a network.
The sglux UV-Index radiometers are featured by a worldwide leading precision. Since 2018 our UV-Index radiometers are appointed for public authority tasks: The German Federal Office for Radiation Protection (BfS) services 27 measurement points in Germany for public information of the daily UV-Index. 20 of these points use sglux sensors for obtaining of the local UV-Index value.
The core components of our UV radiometers or dataloggers is a SiC-UV photodiode and the sensor's thorough calibration. sglux is strictly committed to uncompromising quality, reliability and accuracy of the UV sensor and its calibration. Our quality management is DIN/ISO 9001 certified. Our well-equipped calibration laboratory works in close cooperation with governmental metrology authorities. Please find collaborative publications here. The calibration is PTB (Physikalisch-Technische Bundesanstalt, German National Metrology Institute) traceable, and works according to guideline DAkkS-DKD-MB-3 and the technical report CIE 220:2016.
The below listed selection shows our standard products that we permanently keep on stock. Within only a few days we are able to configure, calibrate and ship the UV radiometers according to customer's requirements.
Showing all 15 results