UV Radiometers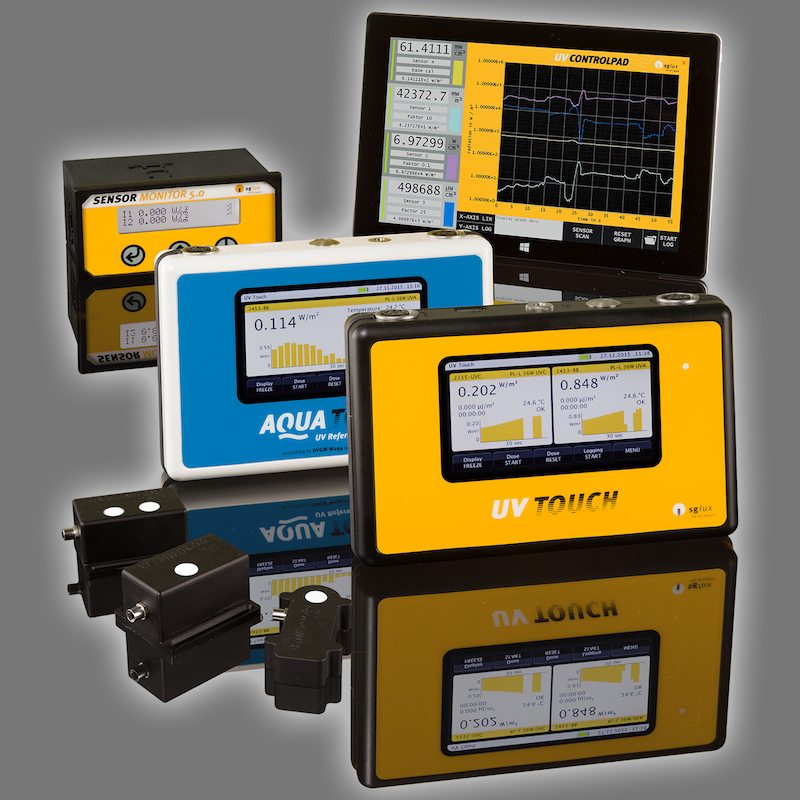 A UV radiometer is needed for quantification and documentation of the impact of UV radiation on biological or chemical processes, as well as the UV effect on the health of human beings, animals, plants or material properties (i.e. occupational and environmental impacts). A current example of use is our smartphone based radiometer Safester UVC. This instrument is used to ensure that UV air disinfection equipment used to inactivate COVID virus do not emit harmful UV irradiation intensity that may damage skin and eyes.
The features of a UV radiometer of choice will depend on the individual customer's requirements or a standard/guideline. The below list of products starts with UV radiometers and UV dataloggers that we configure according to individual customer's requirements. The second category presents reference radiometers for validation of DVGW/ÖNORM duty sensors (DVGW W 294-3:2006 / ÖNORM M 5873 / DIN 19294). The last category shows radiometers for the measurement of the UV Index (ISO 17166) and for UV hazard assessment in workplaces (2006/25/EC). The sglux UV-Index radiometers are featured by a worldwide leading precision. Since 2018 our UV-Index radiometers are appointed for public authority tasks: The German Federal Office for Radiation Protection (BfS) services 27 measurement points in Germany for public information of the daily UV-Index. 20 of these points use sglux sensors for obtaining of the local UV-Index value.
We produce radiometers with "classical" appearance consisting of a handheld device and a UV sensor. The core components of a UV radiometer or datalogger are the UV sensor and the sensor's calibration. sglux is strictly committed to uncompromising quality, reliability and accuracy of the UV sensor and its calibration. Our quality management is DIN/ISO 9001 certified. Our well-equipped calibration laboratory works in close cooperation with governmental metrology authorities. Please find collaborative publications here. The calibration is PTB (Physikalisch-Technische Bundesanstalt, German National Metrology Institute) traceable, and works according to guideline DAkkS-DKD-MB-3 and the technical report CIE 220:2016.
UV radiometers and UV dataloggers (5)

UV radiometers with dosimeter and data logging feature, configured and calibrated according to customer's requirements

UV reference radiometers for UV purifier sensor validation (4)

Reference radiometers for validation of water purifier duty sensors according to guideline DVGW W 294-3:2006 and ÖNORM M 5873 and DIN 19294

UV-Radiometers for specific measurements (5)

Radiometers for hazard assessment of natural UV radiation in workplaces according to ISO 17166 standard (UV-Index) as well as for hazard assessment of artificial UV radiation in workplaces according to European Community guideline 2006/25/EC and for UVC radiation measurement during surface disinfection, e.g. during UVC powered COVID virus inactivation