UV Index Measurement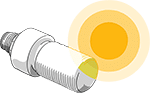 Photodiodes for measurement of the UV Index, various optics and detector chip areas
UV sensors (TOCONs) with 0 to 5 V voltage output for measurement of the UV Index, various optics
UV sensor probes for measurement of the UV Index, cosine field of view
UV Index reference radiometers
Measurement uncertainty of these sensors is less 5 %, spectral response curve and the field of view (cosine type) in near perfect accordance with the requirements defined in the ISO 17166 standard
Definition of the UV Index
The UV Index is defined by ISO 17166 and quantifies the risk of sunburn (Erythema Solare) at a given solar UV exposure spectrum.
High precision measurement of the UV-Index
The sglux UV-Index sensors measure the UVI with a worldwide unique low measurement uncertainty of less than 5 %. This makes our sensors compliant to the highest measurement precisions class one according the DIN/EN 5031-11, chapter 8. Since 2018 our product UV-Cosine_UVI (ERYCA) is appointed for public authority tasks: The German Federal Office for Radiation Protection (BfS) services 27 measurement points in Germany for public information of the daily UV-Index. Twenty of these points (Andernach, Chieming, Duderstadt, Fichtelberg, Genthin, Giessen-Wettenberg, Schauenburg-Kassel, Langen, Lueneburg, Munchen-Neuherberg, Norderney, Belm/Osnabrueck, Schauinsland, Tholey, Todendorf, Waldhof-Falkenstein, Waldmuenchen, Wurmberg, Zingst and Zirchow) use the sglux ERYCA to obtain the local UV-Index value. In 2017 ARPANSA (Australian Government's primary authority on radiation protection and nuclear safety) began replacing the existing biometers with SiC photodiode UV sensors (sglux ERYCA) at all network sites. There are currently thirteen measurement sites in Australia that have been upgraded to the new sensors.
The high precision of the sensors is a result of the interaction of a SiC based photodetector chip and special optical filters. This makes the sensor's spectral responsivity near perfectly matching the erythema action curve of the human skin as defined in ISO 17166.
First measuring station for the UV index in Berlin
Since 2014 Berlin's first UV Index measuring station works on the roof of sglux's building. This station bases on the UV Index sensor probe UV-Cosine_UVI (ERYCA). Below the values of this station are displayed.
Do you represent a township, a school or sports & recreational facilities and do you like to operate your own UV Index measuring station? The sglux "stand-alone UV Index Transmitter" is a well approved solution. Many towns around the globe use the sglux transmitter to publish the local UV Index to the public. This solar cell powered instrument measures and transmits the current UV Index via cellular radio to a server where the obtained values are stored. We gladly advise you on this product.
Todays value in Adlershof
Yesterdays value in Adlershof
Values for last 7 days in Adlershof
Our Products
Our components for measurement of the UV Index are listed below. It starts with UV-Index photodiodes (external photocurrent converter needed). Easiest to use components are the UV-Index TOCONs (photodiodes with internal amplifier for 0 to 5 V voltage output). The sglux UV-Cosine_UV-Index probe (ERYCA) is a waterproof sensor ready-to-mount outdoors with cosine field of view. A display unit and, alternatively, an Android app serves together with a sglux sensor probe as a UV-Index radiometer. All items will be delivered calibrated (PTB traceable) on request.
Contact sglux and discover your opportunities to precisely detect and report the sun's UV-Index.
Showing all 9 results